Web & IT Services
Supporting our customers with many different services in the range of Internet and IT, developing unique solutions for webbased procedures and setting up a customised infrastructure gives our customers the opportunity to focus on their core business.
We offer creative solutions of webbased applications for Inter- Extra or Intranet services.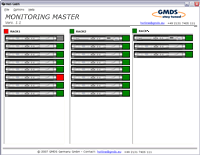 GMDS has the expertise to design and develop dedicated solutions that meet the specific requirements of the most challenging customers. These services are handled under the brand
factor4
GMDS has designed dedicated applications for media transmission and distribution like monitoring and controlling equipment or recording and measuring different types of signal and data. Your request is your challenge!